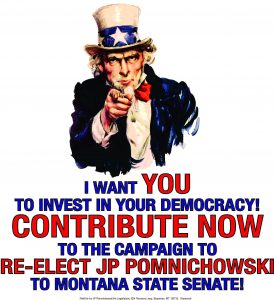 Contribute to the campaign!
Invest in your democracy! Contribute to the campaign to re-elect JP to the Montana State Senate. It's easy.
Contribute online!
HELP ON THE CAMPAIGN!
Email JP at pomnicho@gmail.com to volunteer. It's easy, it's fun, and it's important! You'll be helping to elect a representative for you.
Send contributions to
JP Pomnichowski for Legislature, 624 Terrance Loop, Bozeman, MT 59718
Contribution limit $180 per contributor, per election. For contributions of $35 or more, election laws require us to collect information from you. Please provide your name, address, employer, and occupation. We can't accept company checks or anonymous contributions, but cash, personal check, and volunteering is greatly appreciated!
THANK YOU!
Paid for by JP Pomnichowski for Legislature, 222 Westridge Drive, Bozeman, MT 59715 Democrat